Defence policy
Sweden needs defense against external threats, but that requires not only aircraft and cannons, but also a much better cyber defense than we have today. We want to work for international conventions that regulate cyberwarfare, and limit the damage that such can inflict on civilians. We believe that voluntary organizations should play an important role in defence.
Overview – The Pirate Party wants to:
Two percent of the defense budget is spent on research
Sweden is working for an international convention against autonomous combat robots
Cooperation with voluntary organizations is strengthened
Sweden is working for an international convention against using cyber weapons against civilian targets
Introduction – The mission of the Armed Forces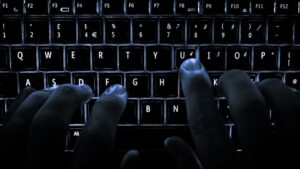 The mission of the Swedish Armed Forces must be to create such conditions for an attack on Sweden that other military actors consider that they have more to gain by leaving Sweden out of a conflict than by drawing Sweden into it. Furthermore, the mission must be to, if an attack does occur, repel it if possible, and otherwise wage a protracted resistance struggle with the aim of inflicting heavy losses and having time to receive help from elsewhere.
1. A modern defense
The Pirate Party's program of principles states that the party wants to protect the foundations of democracy, the integrity of individuals and create protection from abuse by various power holders on the individual. This means that Sweden as a state and society needs the opportunity to protect its territory, its infrastructure and its citizens from attacks by other military actors – states or non-states. An important part of such a defense is that Sweden has a functioning, modern and adapted defense force with the resources required for its mission.
Therefore, we want to:

§1 At least two percent of the defense budget is spent on research;

§2 Sweden works for strengthened defense cooperation within the EU.
2. Transparency and responsibility in the cyber war
Today, cyber wars are waged largely without transparency or accountability. In accordance with our principles regarding technological development and transparent exercise of power, the Pirate Party wants to change this. We want to work for international conventions that bind signatory parties to openly declare the use of cyber weapons; this includes purchasing surveillance software from third parties for the purpose of spying on foreign individuals. We also want signatories to commit not to actively undermine the security of civilian systems, for example by concealing weaknesses, in order to, for example, develop cyber weapons.
At the same time, Sweden needs to get much better at cyber defense. We believe that everyone in society needs to be involved in order for us to achieve an effective defense in Sweden. Therefore, the Piratpartiet believes that our schools should teach digital self-defense from an early age and that our authorities should undergo ongoing analyzes of their cyber defense capabilities and information security. Boards and management teams within public authorities in Sweden should have a basic knowledge of cyber security, as their operations – and our society – are largely digitized.
Therefore, we want to:

§3 Sweden signs an international convention on openly declaring the use of cyber weapons;

§4 Sweden signs an international convention not to actively undermine the security of civil systems.
3. Cooperation with voluntary organisations
The Pirate Party believes in a society based on actively participating citizens. Together with principles around decentralized power structures, this leads to the Pirate Party wanting to strengthen the defense forces' cooperation with various voluntary defense organizations with the aim of strengthening Sweden's resilience.
Therefore, we want to:

§5 The possibilities for greater cooperation between the armed forces and voluntary associations are investigated.
4. The Fortifications Agency
Because the Pirate Party works for transparent exercise of power and for people to have the opportunity to be informed enough to participate in the political conversation, we want to abolish the fortification agency and return all its properties to the armed forces. Today, the fortifications agency must contribute to the state treasury and provide the armed forces with requested properties. These two missions collide when certain properties are not in demand for a longer period, which leads to incidents similar to the sales of Gotland properties after the closure of the defense presence there in 2004 – sales that brought in 40 million kroner and caused the need for new purchases for 780 million kroner. In addition, when the Fortifications Agency is to make a profit, there will de facto be a hidden corresponding reduction in the defense budget, which is a problem in terms of transparency.
Therefore, we want to:

§6 The Fortification Agency is abolished and its assets are handed over to the Defense Forces.
5. Standby storage of strategic products
The Pirate Party sees a great need for everyday life to be able to function even in times of war and crisis. For this to be possible, emergency storage of strategic products is required to meet the citizens' needs for protection, food, heat and sanitation as well as medical care.
Therefore, we want to:

§7 At the municipal and regional level, Emergency Stocks are established for strategic products which, for a shorter and longer period of time, can meet the consumption of the ordinary business;

§8 State-owned companies and authorities are required to reserve supplies that are of utmost importance for their operations and production.
Pirate policy from A to Z
Health care
We want equal care - regardless of whether you live in the city or in the countryside - and a diversity of different care providers. Healthcare must be evidence-based and systems improved to introduce new knowledge and new technology into healthcare.